The three chariots of Balabhadra, Subhadra and Jagannatha are newly constructed every year with wood of specified trees like phassi, dhausa, etc. customarily brought from the ex-princely state of Dasapalla, by a specialist team of carpenters who have hereditary rights and privilege for the same. The logs are traditionally set afloat as rafts in the river Mahanadi. These are collected near Puri and then transported by road.
The three chariots, newly constructed every year and decorated as per the unique scheme prescribed and followed for centuries stand on the Bada Danda, the Grand Avenue. Covered with a bright canopies made of stripes of red cloth combined with those of black, yellow and blue colours, the huge chariots are lined across the wide avenue right in front of the majestic temple close to its eastern entrance, also known as the Sinhadwara or the Lion's Gate.
Lord Jagannatha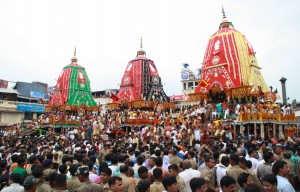 's Chariot is called Nandighosa. It is forty-five feet high and forty-five feet square at the wheel level. It has sixteen wheels, each of seven feet diameters, and is decked with a cover made of red and yellow cloth. Lord Jagannatha is identified with Krishna who is also known as Pitambara, the one attired in golden yellow robes and hence the distinguishing yellow stripes on the canopy of this chariot.
The Chariot of Lord Balabhadra, called the Taladhwaja, the one with the Palm Tree on its flag, has fourteen wheels, each of seven feet diameters and is covered with red and blue cloth. Its height is forty-four feet.
The Chariot of Subhadra, known as Darpadalana, literally trampler of pride, is forty-three feet high with twelve wheels, each of seven feet diameters. This Chariot is decked with a covering of red and black cloth, black being traditionally associated with Shakti and the Mother goddess.
Around each of the chariots are nine Parsva devatas, painted wooden images representing different deities on the chariots' sides. Each of the chariots is attached with four horses. These are of different colours – white ones for Balabhadra, dark ones for Jagannatha and red ones for Subhadra. Each chariot has a charioteer called Sarathi. The three charioteers attached to the chariots of Jagannatha, Balabhadra and Subhadra respectively are Matali, Daruka and Arjuna.